About the Author
Sei Shonagon lived in Heian Japan between  966-1017.  It is believed that her real name was Kiyohara Nagiko.  Her father, Kiyohara no Motosuki, was a provincial governor who was also known for his waka poetry. Her grandfather, Kiyohara no Fukayabu, was also a waka poet.  While her father had an appointment in the provinces, Sei lived most of her life in the capital which was the seat of the imperial court.  She served under the Empress Teishi between 993-1000 who was a consort of Emperor Ichijo.  There is a lot of speculation about her life.  We are only offered a glimpse with her writings in The Pillow Book.  She does not mention being married or having children in her writings but other sources say she was married and had a child.  Sei had a rival in court named Murasaki Shikibu.  According to Norton's Anthology, Murasaki saw her as conceited and her writings left much to be desired.
About the Heian Court and the Heian Period
Sei Shonagon lived in the middle of the Heian period.  According to our anthology, the capital was Heian-Kyo, the "Capital of Peace and Tranquility", which is now present day Kyoto.  The Heian period is known for its art and literature, especially poetry.  Buddhism, Daoism, and other Chinese influences were important in this period.  The Heian Court followed a complex aristocratic system with the symbolic figure of the emperor as the center.  There was a strict hierarchy based on rank and education focused on the Chinese classics.  Sei had an excellent education in the Chinese classics but was forced to write in vernacular Japanese.  In court, men and women were segregated which meant letters had to be exchanged in order to communicate.  Women were hidden behind paper doors and rarely seen.  The only outlet women had in the Heian court was writing.  Daughters were used as pawns in political marriages.  The Fujiwara clan controlled the succession by ensuring their children married into the imperial family and the court. Being a courtier had its ups and downs in this period. Also, beauty was extremely important in this period. This is the period where women painted their skin white and wore long flowing robes. It was a graceful period and known as Japan's Golden Age.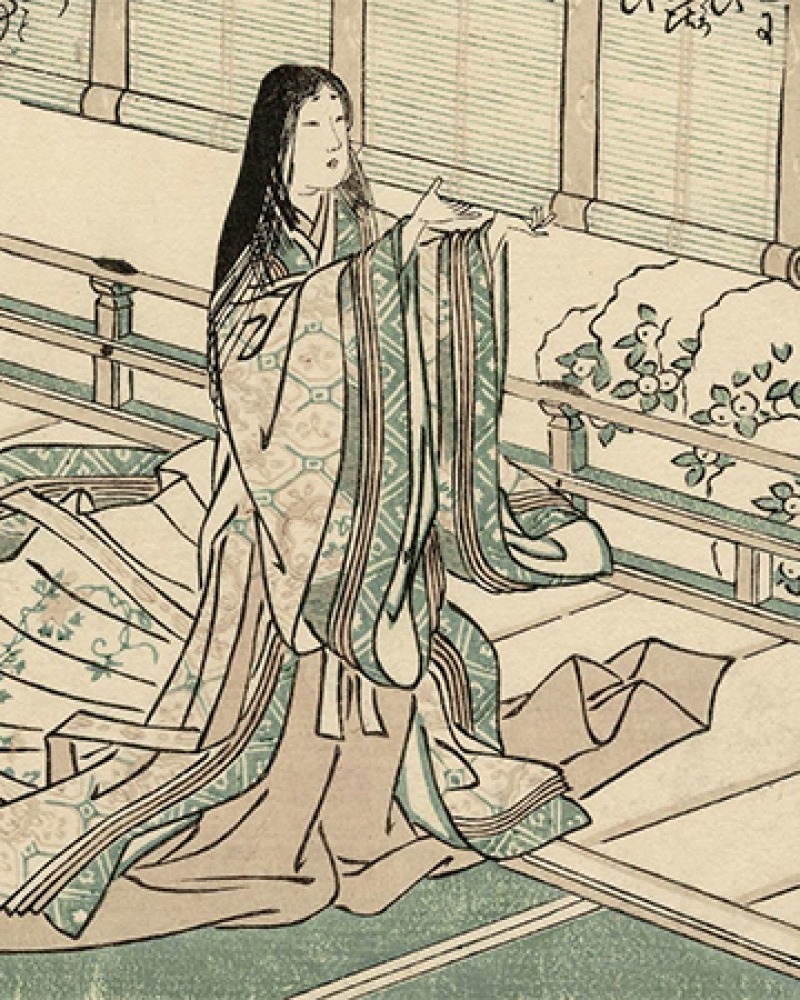 About The Pillow Book
I don't feel that I can give The Pillow Book the accurate description which it deserves.  Historians look at The Pillow Book as a glimpse into the Heian Court and the lives of courtiers in this period.  Her uncanny views and her strong feminine voice inspire her readers.  She never writes about her life as a mother or a wife.  The Pillow Book is not a diary.  The Pillow Book is a more of a journal with miscellaneous information that she thought was important.  She wrote about nature.  She wrote about Teshi.  She wrote about politics.  She wrote about what was happening in her life and at court.  Our Norton Anthology summarizes it as "The Pillow Book chronicles with wit and humor the moments of glamour and ennui, the obsessions and trivia, of Heian court life.  Over the course of The Pillow Book, as Shonagon expounds on why some kinds of carriages should move faster than others, why priests should be handsome, or how a lover should make his good-byes, she emerges as an impatient and imperious figure.  She is every inch the aristocrat, whose fastidious standards brook no slipshod behavior.  So deft is she at homing in on human foibles and skewering the offender that the effect of her sharp sallies can be shattering.  We chuckle at her delicious wit, but we are glad we are not objects of her scrutiny.  The Pillow Book is written in a compact and forceful style, which favors brevity and compression and produces surprising effects by means of unusual juxtapositions.  Shonagon's literary persona favors witty repartee, sly self-promotion, and occasional cutting insults.  Her candor in admitting her hypercritical nature, and her display of ruthless honesty toward others and herself, gives her an irrepressible, magnetic voice. She is a presence." (1216-1217)
In Heian court, receiving and passing astute judgement was highly desirable. Sei Shonagon used the term okashi over four hundred times.  The term okashi has different definitions according to how it is being used.  The Pillow Book focuses on beauty but doesn't hesitate to discuss the ugliness she sees.  An example of this would be fleas dancing under ladies' skirts.  There is some debate about when The Pillow Book was written and also whether she wanted it read by the public.  So, what exactly is The Pillow Book? Teshi's brother had brought paper as a gift and it was given to Sei.  She bundled it up, wrote on it, and would keep it by her pillow.  One day she had a visitor who saw the manuscript, kept it, and eventually published it.  Her brush changed history and gave us a glimpse of a life that we would have never known had it remain hidden.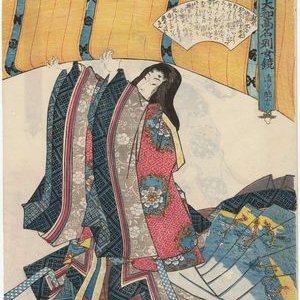 An Excerpt from The Pillow Book
71. Rare things-A son-in-law who's praised by his wife's father.  Likewise, a wife who's loved by her mother-in law. A pair of silver tweezers that can actually pull out hairs properly.  A retainer who doesn't speak ill of his master.  A person who is without a single quirk.  Someone who's superior in both appearance and character, and who's remained utterly blameless throughout his long dealings with the world.
I liked this excerpt.  This is our life.  We are not perfect.  There are ups and downs and you just have to live with it.  You cannot be afraid to be quirky.
Another Excerpt from The Pillow Book
68.  Things that can't be compared-Summer and winter.  Night and day.  Rainy days and sunny days. Laughter and anger.  Old age and youth.  White and black.  People you love and those you hate.  The man you love and the same man once you've lost all feeling for him seem like two completely different people.  Fire and water.  Fat people and thin people.  People with long hair and those with short hair.  The noisy commotion when crows roosting together are suddenly disturbed by something during the night.  The way they tumble off their perches, and flap awkwardly about from branch to branch, squawking sleepily, makes them seem utterly different from daytime crows.
When I read this the old adage that you can't compare apples and oranges comes to mind.  The image of the crows squawking made me wonder if she had been seeing women in the court gossiping that day and she was trying to be polite about it.  I do like her message about comparing others and we just should not do it.
A Few Last Thoughts
In conclusion, I have not done this beautiful work justice so please read it.  Enjoy a glimpse into the past.  Meet a woman who is composing about life with the strokes of a brush.  On a side note, I have not read it but The Peach Pit has made an anime series about Sei Shonagon's life if you like anime.
Sources and Images Used
https://chronolit.files.wordpress.com/2019/03/sei.jpg?w=336&h=450&crop=1
https://i.pinimg.com/originals/9a/6f/19/9a6f1910795821a96b4c73e39fbf51cc.jpg
https://www.laphamsquarterly.org/sites/default/files/styles/tall_rectangle_custom_user_xsmall_2x/public/images/contributor/shonagon_360x450.jpg?itok=rlkpOQJW&timestamp=1416956552
https://upload.wikimedia.org/wikipedia/commons/6/6f/Sei_Shonagon2.jpg
https://pbs.twimg.com/profile_images/1078761547135107073/mOhllPDL_400x400.jpg
https://i.pinimg.com/originals/8d/b3/1e/8db31e9bc1311699a7d137c0b6924b7a.jpg
https://upload.wikimedia.org/wikipedia/commons/thumb/d/d7/Hyakuninisshu_062.jpg/170px-Hyakuninisshu_062.jpg
https://encrypted-tbn0.gstatic.com/images?q=tbn:ANd9GcQxI4ulhDFN5-Iy2MY0wOhVzOSK1T9WUv0P3w&usqp=CAU
Puchner, M., Akbari, S. C., & Denecke, W. (2018). The Norton anthology of world literature Volume B. New York ; London: W.W. Norton et Company.
https://en.wikipedia.org/wiki/The_Pillow_Book
https://en.wikipedia.org/wiki/Sei_Sh%C5%8Dnagon