Inca Theatre
Theatre and stage performances are used to act out a real-life or imaginative act for an audience; the idea of theatre is to provide entertainment for others through art performances. These types of setting in entertainment are commonly found in all sorts of ancient cultures. The Greeks, the Japanese, and even The Romans used this style of art to give a performance. This style was very broad in other cultures and was commonly used as you can tell. As for the Quecha Indians, this was not different for them. The uprise of stage performances and theatre all started after the Incas celebrated their territorial defeat. The plays that they acted out gave symbolized comedies and tragedies throughout Cusco, Peru. These plays were also a way to remember past ancestors and tell stories about heroes (Apu Ollantay).
I chose this image to put in my blog to show how a theatre would have looked like back then during that period. The spiral seating that rises higher and higher gives off an arena like seating. This makes it easier for people to see the stage theatre back then.
 The dramatic plays were driven by the Incas, and dramatic performances were acted out before the Inca period. The way of interconnection established between the Incas and Western Amazonian societies are still unknown in studies interested in the Pre-Columbian history of South America. The Incas had two types of genres they would generally stick with which was wanka and aránway. The wanka genre consisted of a memorable and historical character, while aránway had a broader genre that dealt with the everyday lives of an Inca person in their performances.
Apu Ollantay background:
Apu Ollantay was first originally written in Quechua and was first published in 1853 by the author names of J.J. Von Tschudi. After this was published, many more variations started to come along in other languages such as Spanish and French.
The story of Apu Ollantay:
The piece of literature tells the story of Ollantay. Ollantay was a heroic and faithful warrior from Antisuyu who fell in love with Cusi Coyllur, who was an Inca princess. Cusi was the daughter of the emperor Inca Pachacuti. While reading more into the story, the approval from Cusi's mother was accepted but the father of Cusi was in denial of the relationship. This was very interesting to read because this can now be like a modern-day love story; you have the protective father over the daughter and the mother's approval. In the story, Ollantay was even more despised because he did not have any royal blood in him. Ollantay was in very much denial and sadness when the emperor kept rejecting over and over. Ollantay began to rebel against his words and war began to erupt. Ten years had passed, and the father of Cusi forgave Ollantay and gave him a hand as an Incan representative. In the end, the two lovers Ollantay and Cusi Coyllur are together and they had a baby before all this mess and war had happened. Now they can peacefully be united as a whole.
Parental Love Symbol and Other Symbols:
Apu Ollantay symbolizes parental love and the bond that should be made. This symbol has been important in many past down stories teaching about good morals and practices. The idea of parental love is a strong symbol of an unbreakable strength between two important people. This being said other symbols and themes of Apu Ollantay were manifesting and manipulating oneself. An example was when Ollantay claimed his spot in front of Pachacuti as the new king of the country.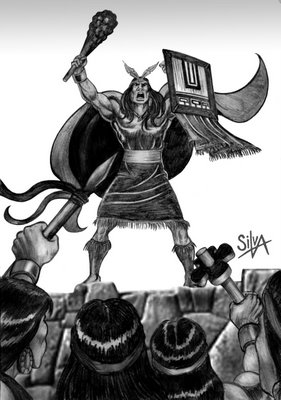 Works Cited:
"APU OLLANTAY." Apu Ollantay, www.gutenberg.org/files/9068/9068-h/9068-h.htm.
Images:
https://upload.wikimedia.org/wikipedia/commons/4/4f/Moray_-_Qechuyoq.JPG
https://www.lifeder.com/personajes-de-ollantay/
http://laliteraturaylaspalabras.blogspot.com/2014/12/el-ollantay.html