The Academy of Contemporary Music at the University of Central Oklahoma (ACM@UCO) salutes Wanda Jackson — First Lady of Rock, Queen of Rockabilly and lifelong Oklahoma champion — and her powerful and influential career!
After 60 years (!) of touring, she recently announced her retirement from performing, saying, "This is not the end, just the beginning of a new chapter." She said health and safety issues contributed to her decision.
She was inducted into the Rock and Roll Hall of Fame in 2009, and released her autobiography, Every Night is Saturday Night: A Country Girl's Journey to the Rock and Roll Hall of Fame, in 2017.
She is often credited as the first woman to record a rock 'n' roll record.
Musicians as varied as Lemmy Kilmister (Motorhead), Cyndi Lauper, Bruce Springsteen, Rosie Flores, Jack White and Elvis Costello, among others, credit the Maud, Oklahoma-born artist as a major influence and/or inspiration.
In 2011, she opened for Adele on many of the English singer-songwriter's sold-out tour dates.
Ms. Jackson even has a street named after her — Wanda Jackson Way — dedicated in 2009 by Oklahoma City Mayor Mick Cornett (on Wanda Jackson Day, no less). It's located near the ACM@UCO campus (and Flaming Lips Alley) in Bricktown.
Bob Dylan has called her "an atomic fireball of a lady."
Read more about her decision to retire in this Rolling Stone article.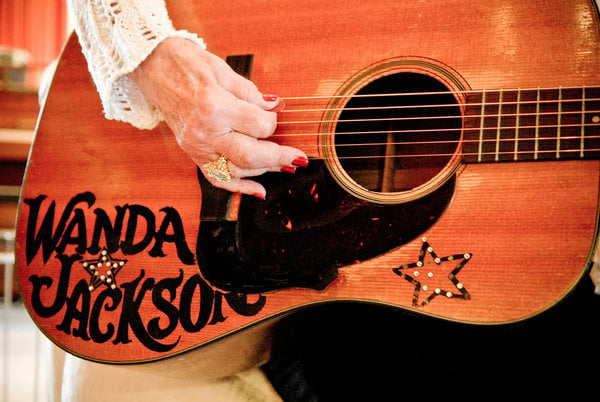 PLUS! Here's a 2009 interview Wanda Jackson did with music journalist Jennifer Chancellor for the Tulsa World after Jackson was nominated for induction into the Rock and Roll Hall of Fame. (Chancellor is now PR and marketing coordinator for ACM@UCO.)
In that interview, Jackson says, "The stage was my kingdom. I felt like a queen. … I was in the eye of a hurricane."
Here are a few of our favorite videos of Ms. Jackson performing.
You can also follow her on Twitter, Facebook and Instagram.